News
/
Bangalore will choose a private partner for its high speed rail link in September
Bangalore will choose a private partner for its high speed rail link in September
Related Companies
Related Articles
Expediting the process for selecting the executing agency for building a direct rail link to the Bangalore International Airport, the Karnataka Government on Monday shortlisted five private consortia, which include the following:
-
Reliance Infrastructure
- CSR Nanjing Rolling Stock Company Ltd (China)- Pioneer Infratech Pvt Ltd-Siemens Project Ventures (Germany),- Lanco Infratech Pvt Ltd- OHL Concessions S.L.(Spain),- Laursen&Toubro, Transco Ltd and- ITD-ITD Cem-Soma Enterprises Joint Ventures.
for developing the 34 km high speed rail link from the central business district to the airport at Devanahalli.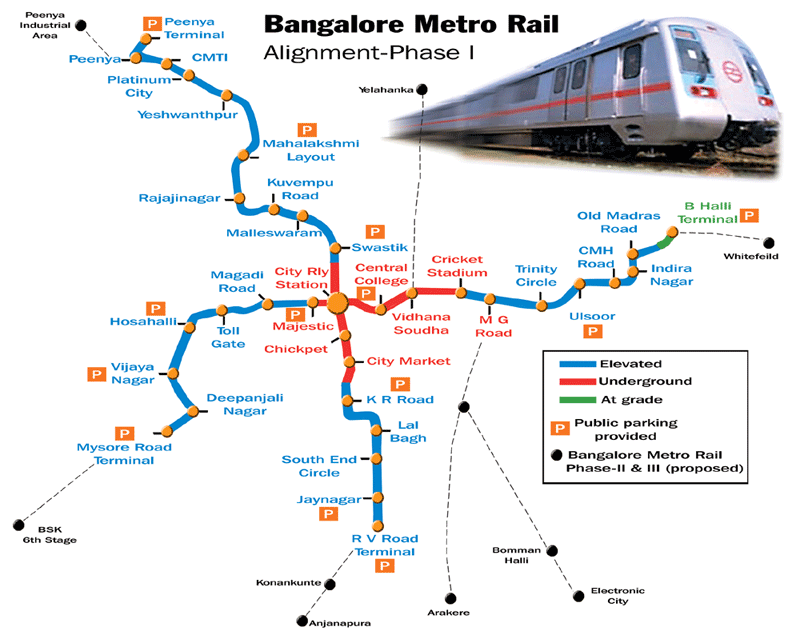 Bangalore's metro rail scheme
The competitive bids for the Rs 6,900-crore project will be opened on August 12 and the letter of award would be issued on September 17.The concession agreement would be signed within 30 days of awarding the final bid.
The project is expected to be completed in 33 months after the work starts in February.
The State Government would contribute Rs. 532 crore while the Centre is expected to release Rs 1,040 crore.The Government would take steps for the acquisition of 65.95 acres required for the project.The high-speed train, which will charge Rs 200 from the starting point at M.G. Road, will have facilities befitting international standards, an official said.As the HSRL would be integrated with the ongoing metro rail and the proposed mono rail projects, it would also lead to substantial reduction in traffic congestion.
Maximum speed of the rail is 160 kms per hour, operating speed at 145 kmph and commercial speed at 85 kmph
. Ten trains would be introduced and the frequency would be initially 10 minutes and later reduced to 8 minutes to 6 minutes and finally to 3 minutes, Madhu said adding that there will be stations at M G Road, Hebbal, Yelahanka and BIAL.Along with the decision to go ahead with the High Speed Rail Link (HSRL) project to Bangalore International Airport Ltd (BIAL) project at Devanahalli, the Yeddyurappa-led BJP regime a
lso decided to launch a Monorail project as a feeder service to the Metro Rail project
and take up the second phase of the Metro Rail project at an estimated cost of Rs 14,000 crore.
The first phase of the mono rail work would be taken up in four corridors covering a total of 34 kms
and a final decision on the execution of the project would be taken after a detailed discussion in the next Cabinet meeting, he said, indicating that the per-km cost of the monorail project has been pegged at Rs 140 crore."The three projects - Metro Rail, HSRL and Mono Rail -- together will ease the traffic congestion and go a long way in reducing the vehicular density in the city besides leading to enormous cost saving as well cutting down on environmental pollution," the Chief Minister claimed.