News
/
Big metro rail project: Hyderabad selects Larsen&Toubro
Big metro rail project: Hyderabad selects Larsen&Toubro
Related Companies
Related Articles
Last week I wrote about the metro project in Bangalore, today I bring you a new story related to metro projects. It will be about the metro project in Hyderabad. Hyderabad is the capital and the most populous city of the South Indian state of Andhra Pradesh.Hyderabad has a population of over 4 million. The twin cities Hyderabad and Secunderabad are collectively known just as Hyderabad outside the state and together they form the sixth largest metropolis in India, with a population of 6.38 million.The 71.6 km-long elevated metro rail project will be taken up in public private partnership on design, build, finance, operate and transfer (DBFOT) basis. Revenue will be generated through ticked collection and real state developments.When I wrote about Banaglore metro rail project last week, I commented the fact that metro projects are highly capital intensive and revenue generated though fares-ticket collection are not enough for this kind of projects. Beacuse of this reason, the government gives a subsidy to complement those revenue called Viability Gap Funding (VGF). This VGF is the parameter offered by the companies interested.Anyways, I don't think real state developments should be present in this kind of mega tender. Imagine these companies not interested in assuming real state risk, they will not participate in the tender even though they may be interested in this mega construction.Engineering and construction major Larsen and Toubro (L&T) has bagged the Rs 12,132 ($3,033 million) crore Hyderabad Metro Rail (HMR) project.A three-member committee selected L&T out of six companies that bid for the mega project, which was initially awarded to Maytas Infra in 2008.The authorities called for fresh global bids last year after scrapping the deal with Maytas, a sister-concern of scam-hit Satyam Computer Services, as it failed to achieve financial closure.Eight consortia had qualified to file the financial bids. These include consortia led by Reliance Infrastructure, Lanco Infratech, GVK, GMR, L&T, Soma-Straburg, Transstroy and Essar groups.GVK and GMR pulled out even before submitting the financial bids amid reports that the bidders were apprehensive of the financial viability of the project in the changed scenario.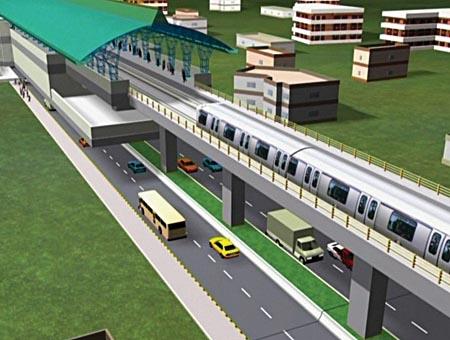 I wonder of the real state reason is behind the fact that only three developers wished finally to participate in the tender.L&T will have to look for an Operation&Maintenance firm specialised in metro rail projects. This is interesting, I am pretty sure that big international player such as Veolia,
Keolis
,
Transdev
, MTR will have appetite to entry into this big indian market.PPP Infra India will follow all the mtro rail projects in India. Give us a try. Subscribe to our blog.